Bilateral trade between China and Russia has skyrocketed this year and is expected to reach US$80 billion by the end of 2017, an increase of over 30 percent year-on-year. The Russian Ambassador to China, Andrey Denisov, told the media that "This year, for six to seven months, growth of trade turnover amounted to around 30 percent. If we keep this momentum, then by the end of the year our trade will reach US$80 billion and even slightly more."
According to the General Administration Customs of China, trade turnover between Russia and China in January-July this year increased by 25.5 percent in annual terms to US$46.82 billion. At the end of 2016, this indicator grew by 2.2 percent in annual terms to reach US$69.52 billion.
The growing trade corridor between the two countries has been motivated by four factors: the sanctions imposed by the EU upon Russia, the relative weakness of the Ruble, China's OBOR ambitions, and mutual investment in integrated IT technologies, such as blockchain and 5G.
"Russia is a key part of China's OBOR plans", says Chris Devonshire-Ellis of Dezan Shira & Associates. "Without Russia on board there is no OBOR, it's as simple as that."
The trade relationship between China and Russia can be expected to develop significantly further. China is currently negotiating a free trade agreement with the Eurasian Economic Union, a Central Asian trade bloc that also includes Kazakhstan to China's west, Russia, and Belarus, which borders the EU. When finalized, it will have the effect of bringing Chinese goods, duty free, to markets across Russia and to the very borders of the EU itself.
Beijing is also working with Moscow in building a high-speed freight rail link between the two cities, which should be operational by 2019. China and Russia are also exploring the development of the Northern Sea Passage, an Arctic route that, when feasible, will considerably reduce maritime transit times between China and Europe. Not surprisingly, northern European countries such as Finland and the Baltic nations are already putting infrastructure development plans to cater for this, including a projected Arctic Corridor that would see rail extend from Helsinki up to Kirkenes on the Arctic Ocean.
As part of its Russian strategy, China has also been busy in assisting Eastern European nations get up to speed with technological developments, and in particular with the coming launch of 5G and related e-commerce technologies. Both China and Russia are some way ahead of the EU in the development of this. China has been making overtures to Europe's 16 eastern nations to examine better collaboration and cooperation between them, Russia, and China itself.
The basic need is plain to see. China's middle class consumer base is currently some 500 million, while about one billion Chinese have access to online shopping. With wealth and disposable income in China set to continue to rise over the coming years, Chinese consumers will be purchasing far more online, and that includes from Russia and the EU. We can see this trend developing as Chinese urban disposable income continues to rise over the next decade and beyond: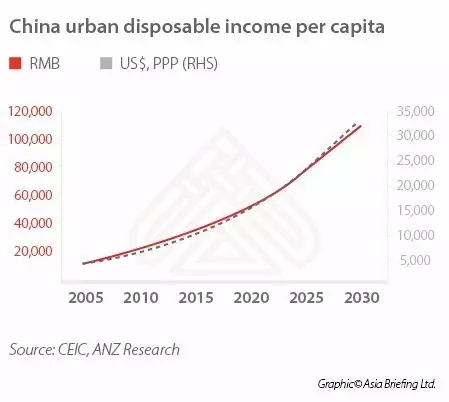 This is why China and Russia have been leaping ahead in getting prepared for this: China will both manufacture and be a major consumer purchaser – and a large bulk of that will be conducted online. The two countries are synchronizing IT based e-commerce technologies and increasingly requesting the EU do the same, purely in order to facilitate such trade. Some smart nations like Estonia have already taken up the call, while others, such as tiny Moldova are starting to position themselves on the EAEU side of the fence to also offer border access to EU trade – the country shares a long border with Romania and has a Black Sea Port.
China and Russia are also getting together on standardization, including over logistics and transportation issues such as rail containerization. Underscoring their IT superiority, the two countries also rank first and second, respectively, as the world's best IT developers.  Chinese programmers outscore all other countries in mathematics, functional programming, and data structures challenges, while Russians dominate in algorithms, the most popular and competitive arena. This has very specific implications as the world moves into a more IT-driven universe and with special attention to e-commerce and the new supporting businesses that developments such as 5G and Blockchain will bring.
The China-Russia plans may go further still. Both Chinese President Xi Jinping and Russian President Vladimir Putin have openly discussed the possibility of uniting Eurasia and developing something known as the Great Eurasian Partnership. This concept brings together the members of the Eurasian Economic Union, Shanghai Co-Operation Organization, and ASEAN as a huge free trade bloc: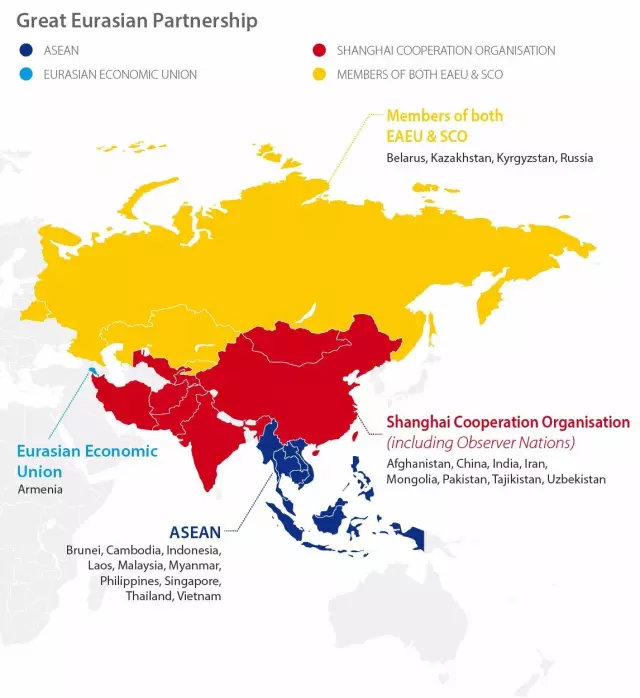 Although it will take decades to achieve, such initiatives do mean that China and Russia are going to be collaborating on both trade and development in deeper and more complex ways in the coming years. Russia, in many respects, will be both China's trade corridor to and from Europe, as well as a trade, cargo and transportation facilitator between the two. Both countries are prepared to fund this to make this happen, and both can be expected to see their respective trade figures increase dramatically. Entrepreneurs should be assessing the China-Russia trade corridor potential.